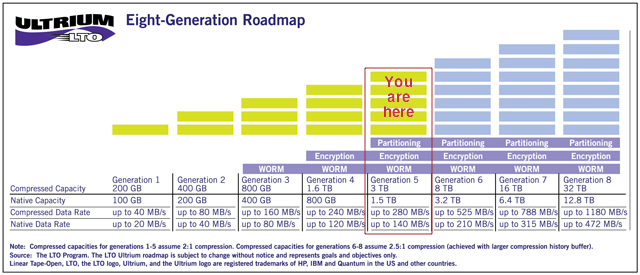 Questions remain about usability for small and medium sized businesses who wish to maintain their own back-up systems. Maintaining a library of tapes doesn't have the same drag and drop ease as hard-disks. It is absolutely mandatory, for example, that the tapes must not be allowed to just sit on the shelf for long lengths of time, but rather must be run through the hardware on a regular basis (which also has the advantage of finding repairable errors.) On the other hand, 1 x 1017 error rates are enticing.
Researchers are developing systems to assist with making tape an easy part of the workflow: The Linear Tape File System (LTFS). LTFS is available to LTO-5 because if its new method of streaming data to the tape in a manner that allows partitioning. This is an evolving issue that should be monitored, or better yet, brought up in industry association meetings to share experiences and problems. See: LTO-5 and LTFS: Shaking the Pillars of Heaven
This is a good place to also mention the Pergamum project, which attempts to build an archive system from low-cost drives. They have exhibited at the last 2 NAB conventions. UCSC computer scientists develop solutions for long-term storage of digital data – UC Santa Cruz
Previous articles on the subject of Archiving:
IEEE (MSST2010) Symposium on Massive Storage Systems Papers Available
IVC/Point.360 Archive Development
Attached are some basic white papers and datasheets.